His relationship with Sergiu Celibidache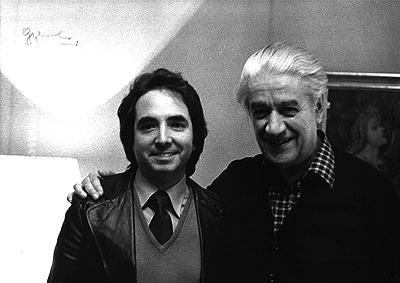 With my mentor, Sergiu Celibidache, backstage at the Royal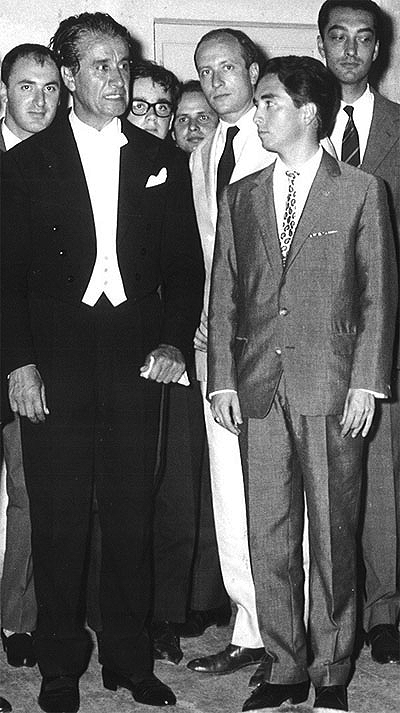 In Siena, 1960
Conte Chigi Celibidache and the eight directors who conducted the final concert of course in Siena (Italy) in August 1961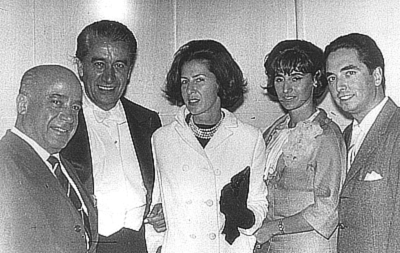 The Maestro García Asensio and his wife, with Celibidache and yours, and the Secretary of the Philharmonic Orchestra of Las Palmas de Gran Canaria, Vera Francisco Martin (August 1965)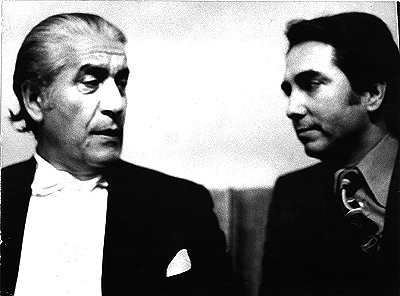 With Celibidache after a concert at the Teatro Real
At the Theatre Royal, 1969
His relationship with his teacher, Maestro Sergiu Celibidache, from the day he started working with him at Chigiana Academy in Siena (Italy), deserves a chapter of its own. At this Academy, he attended all the courses imparted by Celibidache in 1960, 1961, 1962 and 1963. In 1963 he was awarded the prize of the Rotary Club of Siena for the best student of the Chigiana Academy.
From the first course he stood out for being the student which best understood and assimilated Maestro Celibidache's technique, due to which he named him his assistant in all the courses he imparted from that moment onwards, such as for example in Bologna (Italy) at the Teatro Comunale in 1973.
On completing this course, Celibidache cancelled a concert tour with the Orchestra of the Teatro Comunale of Bologna and he was substituted by Maestro Enrique García Asensio. In said tour, Riccardo Brengola (from the "Chigiano Quintet") was the soloist performing the concert for violin and orchestra by Ferruccio Busoni.
Thoughout the years in which they worked together they established a close rapport, both professional and personal and, up to a few weeks before Celibidache's death, had always been in contact. "The Maestro Celibidache was like a second father to me", García Asensio said on many occasions. He also repeated assiduously: "The day I met Celibidache was like winning the lottery."
Since 1964, García Asensio has granted a vast number of courses for conductors and conferences about the tecnique of conducting and musical phenomenology and is, perhaps, the only one teaching these matters learned with Celibidache.
Maestro Celibidache died in August 1996. On the first anniversary of his death, RNE (National Spanish Radio) asked Maestro García Asensio to write an article commemorating such a great loss to music, as he spent more time and worked with Celibidache than anyone else. The Maestro García Asensio wrote an article which was published in Radio Clásica's monthly magazine (number 8, August 1997) which he titled A year without Sergiu Celibidache. The reading of this article inspired Navarran composer Agustín González Acilu, who composed an orchestral piece titled "Reflection" which was performed for the first time at the 7th International Contemporary Music Festival of Tres Cantos (Madrid) on 23 September 2007.
Two festivals paying tribute to Celibidache have already been held, in which García Asensio has intervened (Munich (2002) in Germany and Iasi (2004) Romania). In the latter, in addition to participating in the inaugural concert conducting, for the first time in Romania, the piece "Celibidachiana" by Antón García Abril (dedicated to Sergiu Celibidache), he imparted an orchestral direction course at the university of this Romanian city, very near Roman, the birthplace of Celibidache.
If you visit the website www.celibidache.net, you will see that it belongs to the Celibidache Foundation (Sergiu Celibidache Stiftung) and that the Maestro Enrique García Asensio is one of the executve directors of this Foundation.